Dispatch Health
We've all been there. You're sick and you need to see a doctor, but you're not able to get an appointment to see your doctor that day. So, what can you do? KelseyCare Advantage is pleased to offer you an in-network healthcare option that brings medical care to your door: DispatchHealth!
Instead of going to a busy ER or Urgent Care when you're sick, DispatchHealth can bring same-day medical care to your home. This service is convenient and affordable, and you can feel confident trusting them to care for you: thousands of patients have given Dispatch Health five stars. DispatchHealth is available 8 a.m. - 10 p.m., seven days a week, including holidays. Pre-registration is not required.
DispatchHealth can treat a wide range of serious injuries and illnesses, from the flu, migraines, and stitches to urinary tract infections, pneumonia, and COPD exacerbations. They can also perform lab tests, EKGs and more:
COMMON INJURIES & ILLNESSES:
Bronchitis
COVID-19 symptoms
Diarrhea / Nausea / Vomiting
Dehydration
Fever
Flu
Headache / Migraine
Nosebleeds
Respiratory infections
Pneumonia
Shortness of breath with COPD
Significant skin infections
Strains, sprains and minor fractures
Urinary Tract Infections
Weakness
And more!
DISPATCHHEALTH ALSO PERFORMS PROCEDURES SUCH AS:
EKG
IV fluids, medications, and antibiotics
Stitches
Splinting
Lancing of abscess (boil)
Advanced on-site blood testing
Urinary catheter insertion
Rapid infectious disease testing (flu, COVID-19, strep, mono, etc.)
And more!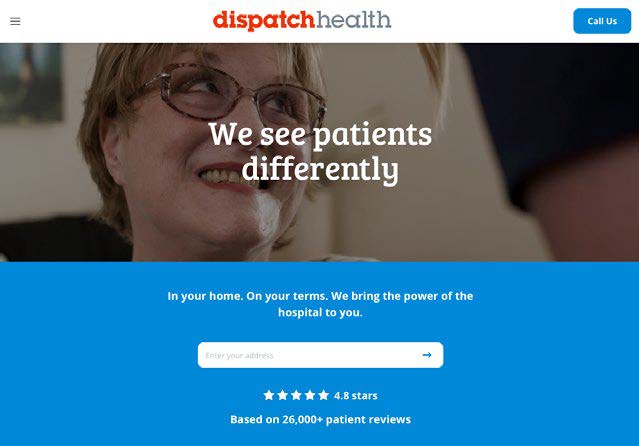 How it works
REQUEST A VISIT AT 833-416-4700 OR VISIT DISPATCHHEALTH.COM
When you call, they will ask about your symptoms and give you a timeframe for their arrival.
ENJOY EXPERT CARE AT HOME
DispatchHealth will send a professional medical team to your home within a few hours. All teams wear personal protective gear, use sterilized equipment, and come equipped with everything they need to treat you.
RELAX AND RECOVER
DispatchHealth calls in any prescriptions you need, updates your doctor, and works with KelseyCare Advantage to handle billing.
For more information, please visit DispatchHealth.com.
Request a visit at 833-416-4700 for care now. DispatchHealth is available 7 days a week, including holidays, from 8 a.m. - 10 p.m. For more information, please visit DispatchHealth.com.
Disclaimer: For life-threatening and time-sensitive injuries and illnesses, call 911 or go to the nearest emergency room. DispatchHealth shouldn't be used in a life-threatening emergency and doesn't replace your primary care provider. DispatchHealth complies with applicable Federal civil rights laws and does not discriminate on the basis of race, color, national origin, age, disability, or sex. Visit www.DispatchHealth. com/non-discrimination-statement to learn more. ©2022 DispatchHealth. All Rights Reserved.