Kelsey-Seybold Makes Getting Needed Care
Easier Than Ever
---
Whether you are managing a chronic condition or needing care for a sudden illness, Kelsey-Seybold Clinic's top priority is getting you connected with the care you need – how and when it's convenient for you! With hundreds of new providers ready to serve you and new Kelsey-Seybold locations opening across Houston every month, Kelsey- Seybold is investing in getting you the access to care you deserve. And, while we're always happy to see you in person, our popular virtual care options are here for you 365 days a year.
VIDEO VISITS: PERSONALIZED CARE, WITHOUT THE TRAVEL
Many KelseyCare Advantage patients are learning how our Video Visits make getting needed care easier. With Video Visits, you can have a scheduled, real-time conversation with a board-certified provider of your choice from your smartphone, tablet or computer using MyKelseyOnline or the MyKelsey mobile app. Video Visits are available for primary care and over 20 specialties.
BOOKING A VIDEO VISIT IS EASY!
Log in to MyKelseyOnline.com or use the app.
Select "Schedule an Appointment" and choose Primary or Specialty Care.
Choose "Video Visit" and follow the prompts to schedule.
VIDEO VISIT NOW: FAST PASS TO CARE RIGHT
NOW
Need a faster alternative? Try our on-demand Video Visit option called Video Visit Now. This choice lets you join our virtual waiting room to be seen by the next available Kelsey-Seybold primary care provider – no appointment needed. Video Visit Now is even available on evenings, weekends and holidays. Typically, you can get needed care in less than 30 minutes!
E-VISITS: AN OFFICE VISIT TO YOUR INBOX
For a variety of common health concerns, our E-Visits allow you to submit detailed information about your symptoms to a board-certified primary care or specialty provider and receive a written treatment plan via MyKelseyOnline in about an hour, during E-Visit hours. E-Visits can be submitted 24 hours a day, 365 days a year.
Dr. Rohan Wagle, Kelsey-Seybold Managing Physician of Digital Health, says that patients are often impressed by how well Video Visits and E-Visits work. "These virtual care options are ideal for health concerns like skin conditions, mental health issues, joint and muscle pain, stomach distress and common respiratory ailments," he says. "Patients can just hop on their smartphone, tablet or computer in the comfort of their homes and receive access to care so easily."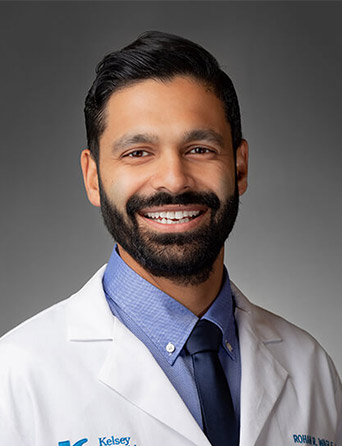 Rohan Wagle, MD, FACC Cardiologist | Managing Physician, Digital Health
---
To see a provider on-demand, simply sign in to MyKelseyOnline and choose Video Visit Now from the homepage menu.
---
TO REQUEST AN E-VISIT:
Log in to MyKelseyOnline.com or use the app.
Select "E-Visit" from the homepage menu.
Follow the prompts to submit your E-Visit request.
IN-PERSON APPOINTMENTS WITH YOUR CONVENIENCE IN MIND
When an in-person visit is preferable, our doors are always open – with more doors opening every day.
In 2022, we added five new locations across Houston. In 2023, we will open six new clinics and expand 12 current locations. We also welcomed 192 new providers to the Kelsey-Seybold medical team and have plans to add 240 more in 2023, all with enhanced access and service for you in mind.
Same- and next-day in-person appointments are available through MyKelseyOnline or by calling our 24/7 Contact Center. We even have appointments available for sick care at select locations on Saturdays and are continuously refining our schedules to create more availability than ever before, especially in specialty care.
YOU are Our Priority!