Fall Prevention
Falls are serious business. The Centers for Disease Control and Prevention (CDC) estimates that although one out of four older people fall each year, less than half tell their doctor. The CDC also notes that falling once doubles your chances of falling again.
Falls are also the leading cause of traumatic brain injuries and can lead to broken bones such as hip fractures, broken wrists, arms, or ankles.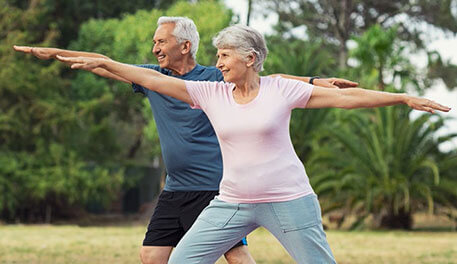 If you sustain one of these injuries, then it means you'll have a harder time getting around and doing the activities that you love to do. Here are four recommendations from the CDC that you can do to make falling less likely.
TALK TO YOUR DOCTOR
First, talk to your Kelsey-Seybold Clinic physician regarding your concerns. They can evaluate your risk and discuss specific strategies to help you avoid falls.
Your doctor or pharmacist may also review your medication (including over-the-counter medicines) as some medications may contribute to falls if they make you dizzy or drowsy.
You might also ask your physician if taking a Vitamin D supplement is a good idea to prevent deficiency and aid in calcium absorption.
STRENGTH & BALANCE EXERCISES
Second, include strength and balance exercises in your exercise routine. Strength and balance exercises will make your legs stronger and help to improve your balance. Tai Chi is the perfect example of this type of exercise, so consider adding it a few times a week. However, make sure that you talk to your primary care physician before starting any type of exercise program.
VISION
Third, get your vision checked annually and update your prescription if needed. Your KelseyCare Advantage plan includes one routine, in-network eye exam per year at no cost.
If you have bifocal or progressive lenses, then you may need to talk with your provider regarding if they recommend you get glasses with only your distance prescription for outdoor activities such as walking.
Bifocals and progressive lenses may make things seem closer or farther away than they really are.
FALL-PROOF YOUR HOME
Fourth, fall-proof your home by:
Removing items that you could trip over.
Adding grab bars inside and outside your tub or shower, and next to the toilet.
Putting railings on both sides of the stairs.
Making sure your home is well lit by adding more lighting or brighter bulbs.
Keeping items where you can easily reach them without using a step stool.
Using non-slip mats in the bathtub and on shower floors.
Finally, if you have trouble getting around, don't be afraid to ask family or friends for help to make the changes needed to make your home safer.