Summer Heat
Gardening, family BBQs, hikes. For many people summer brings an increase in activity level, time spent outdoors, and sun exposure and while these activities can be healthy and enjoyable, it is important to remember that as we age our ability to handle heat-exacerbated illnesses diminishes. That's why it is best to know who is most at risk, what heat symptoms to look for, and how to avoid problems before they arise.
The National Institute of Health has identified certain illnesses that can put seniors at increased risk for health complications during summer months. These health factors, apart from age, include circulatory issues, high blood pressure, chronic dehydration, and heart, lung, and kidney diseases. Being under or overweight, alcohol consumption, and certain prescription medications can also increase your chances of heat-related complications. For senior adults it is important to know what health conditions can arise due to extended hours of sun exposure and what to watch out for. Top heat-related conditions to be aware of in the summer are:
Heat-Related Conditions
What is it?
Symptoms
Dehydration
Dehydration is a lack of water in the body.
Depending on the severity it can cause headaches, weakness, confusion, passing out, dizziness, and muscle cramps.
Heat Cramps
Heat cramps are muscle cramps or spasms experienced after being in a hot environment for an extended period causing a drop in electrolytes in the body.
Muscle spasms, muscle jerks, cramping, often in the legs.
Heat Exhaustion
Heat exhaustion is a step before heat stroke. It is important to act at the first signs of heat exhaustion.

Light-headedness, nausea, dizziness, fatigue, and muscle cramping;

If action to cool down is not taken it can lead to a heat stroke. Be sure to immediately find a cool place, drink plenty of fluids, and remove excess clothing.

Heat Stroke
Heat stroke can be cause for immediate alarm. It is a dangerous rise in body temperature that can have fatal repercussions.
Body temperature of 103* or more, delirium, fainting, confusion, rapid pulse, vomiting, or sweating. If you think that you or someone you know is experiencing a heat stroke, immediately call 911 and get the person out of the heat.
Heat Syncope
Heat syncope is described by the CDC as episodes of fainting or dizziness that usually occurs with prolonged standing or sudden rising. Dehydration or lack of acclimatization can exacerbate heat syncope.
Fainting, dizziness, light-headedness during prolonged standing or while rising from a seated or lying down position.
Skin Cancer
Skin cancer is an abnormal growth of skin cells often developing on skin that is exposed to the sun over extended periods of time.
Different types of skin cancer can cause different symptoms ranging from pearly or waxy bumps, to firm red nodules, to dark brown or black lesions and moles. Although not all changes are cancerous, any changes in your skin that concern you should be discussed with your doctor.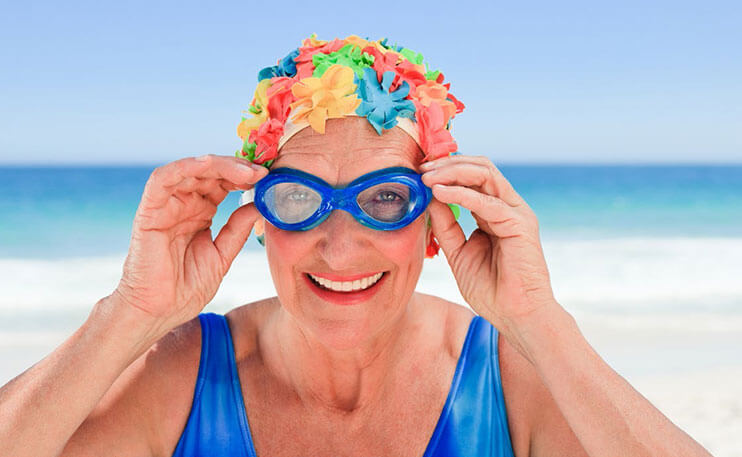 So, while summer is a time to get outside and enjoy the beautiful weather it is also a time to be cautious about the variety of problems that overexposure to the sun can cause. You can avoid such problems with a few simple actions. Stay hydrated by drinking plenty of water, especially after being outdoors in the sun. When you are outside, be sure to take frequent breaks from the sun by sitting down in a shady spot or going into an air-conditioned location. It is important to drink water during those breaks as well. Take excess clothing off to help keep your body cool. Finally, be aware of medications that you take that may cause you to be particularly susceptible to sun exposure. Read your package insert, ask a pharmacist, or talk to your physician if you are unsure. Remember if you or someone you know needs immediate medical attention at any time call 911 and assist in cooling them off.
Unlike heat exhaustion or heat strokes, where 911 may be necessary, skin cancers do not happen immediately, but over time. With excessive UV exposure, the sun can have long-term harmful effects on your skin. Be sure to contact your doctor for any skin concerns that may arise. Skin cancer is treatable, especially when caught early. Enjoy the sun safely by wearing sunscreen and moderating your exposure to harmful UV rays.
Staying safe as outdoor temperatures rise is a lot easier when you know who is at risk, common symptoms of heat-related illnesses to be aware of, and what steps to take to avoid common mistakes during the summer. Don't let the sun deter you from fun activities! Grab your sunglasses, a glass of water, put on your sunscreen and go enjoy spending time outdoors in the sun!