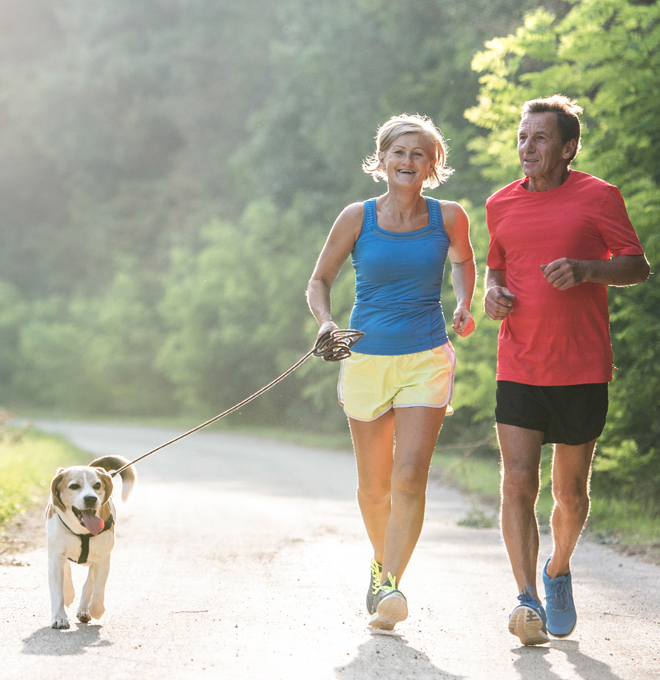 Make Health & Wellness Your Top Priority
Eating a nutrient-rich diet and staying active are two important lifestyle choices that can help you feel your best at any age. It's never too late to replace old, unhealthy habits with new ones so you can feel better and do more of the things you love to do. This is the perfect time to commit to taking care of yourself – mind, body, and spirit.
Here are three ways you can improve your quality of life, starting today:
Make healthy choices at every meal. A nutrient-rich diet can increase your energy, improve cognitive function, help manage weight, and reduce your risk for certain diseases.1,2 Also, remember to stay hydrated by drinking water throughout the day.
Get moving. The Centers for Disease Control and Prevention recommends that seniors get at least 150 minutes of moderate aerobic activity a week – about 30 minutes a day, five days a week. A brisk walk, exercise class, or bike ride are great options. Even 10 minutes of exercise can deliver health benefits!3
Stay connected. Engaging with other people is important to our physical and mental health.4 Sometimes social opportunities slow down as we age, but it's important to find ways to connect with others in ways that are enjoyable to you.
Ready to get on board, but not sure where to start? Your SilverSneakers benefit from KelseyCare Advantage is a great first step. SilverSneakers® is the nation's leading fitness and lifestyle program for seniors, and eligible KelseyCare Advantage members get it at no additional cost. SilverSneakers members have access to classes
5
and workshops on fitness, nutrition, stress management, recipes, health articles, social opportunities, and more. You can participate in person or from the comfort of home. For many members, SilverSneakers is a life-changing decision. Last year, 86% of members said SilverSneakers improved their quality of life.
6
Now it's your turn!
Participate in SilverSneakers events online or in person
You can join live SilverSneakers fitness classes from home, or by taking your member ID number to a participating location near you.
7
Either way, SilverSneakers offers something for members of all fitness levels and abilities, and it's a great way to meet new people! Join a live class from home by visiting
www.Silver Sneakers.com/Live
or choose from a library of fitness and nutrition videos at
www.SilverSneakers.com/OnDemand
. It's the perfect way to celebrate a healthier new you. Get Started Today! Remember to always talk with your doctor before starting an exercise program.
Sources:
1. National Institutes of Health, https://www.ncbi.nlm.nih.gov/pmc/articles/PMC4983622, Accessed 3/4/2021
2. U.S. National Library of Medicine, https://medlineplus.gov/nutritionforolderadults.html, Accessed 3/4/2021
3. American Heart Association, https://www.heart.org/en/healthy-living/fitness/fitness-basics/aha-recs-for-physical-activity-inadults, Accessed 12/2/2020
4.Centers for Disease Control and Prevention, cdc.gov/features/social-engagement-aging/, Accessed 12/2/2020
5. Membership includes SilverSneakers instructor-led group fitness classes. Some locations offer members additional classes. Classes vary by location.
6. 2019 SilverSneakers Annual Participant Survey
7. Participating locations ("PL") are not owned or operated by Tivity Health, Inc. or its affiliates. Use of PL facilities and amenities is limited to terms and conditions of PL basic membership. Facilities and amenities vary by PL.
SilverSneakers® is a fitness program for seniors that is included at no additional charge with qualifying Medicare health plans. Members have access to 16,000+ fitness locations1 across the country that may include weights and machines plus group exercise classes2 led by trained instructors at select locations. Access online education on SilverSneakers.com, watch workout videos on
SilverSneakers OnDemand™ or download the SilverSneakers GO™ fitness app, for additional workout ideas. Members often get together for social activities and create a sense of community.
SilverSneakers is a registered trademark of Tivity Health, Inc. SilverSneakers On-Demand is a trademark of Tivity Health, Inc. © 2021 Tivity Health, Inc. All rights reserved.