Each fall, usually in late September, Medicare Advantage plans, including KelseyCare Advantage, send you an Annual Notice of Change (ANOC) letter. Oftentimes this letter gets filed away without a second glance, but your ANOC contains important information on benefit changes that will go into effect the following January. This document highlights any significant changes, including new benefits available to you.
The beginning of your ANOC shows a brief Summary Chart. This chart compares your current year costs, such as your monthly premium, maximum out-of-pocket costs, and copays for in-network primary and specialist visits, to your upcoming years costs under the same plan.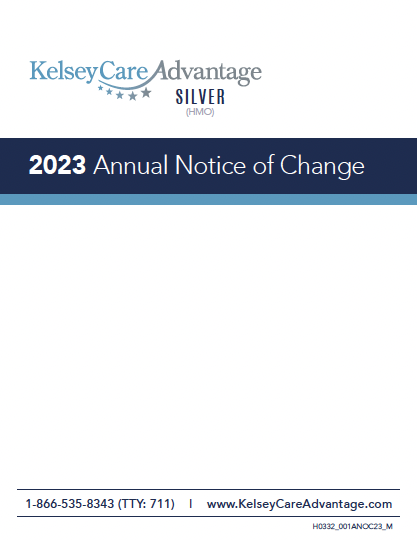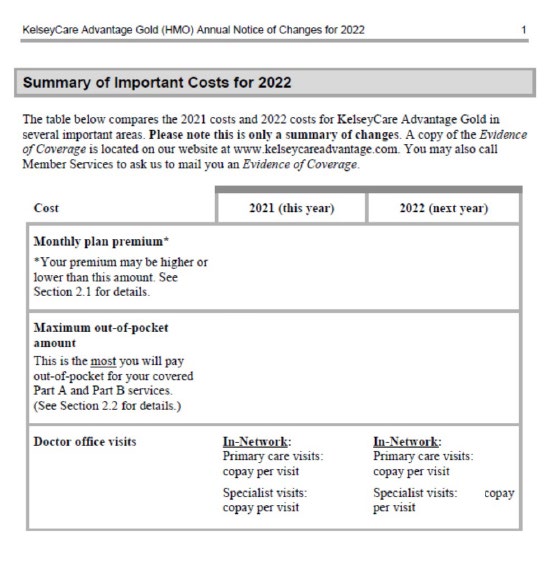 This quick guide is an easy reference but there is much more to learn from your ANOC.
Immediately following this chart, you will find the Table of Contents letting you know where to find pertinent plan information. You will need to locate the Changes to Benefits and Costs for Next Year section, shown highlighted.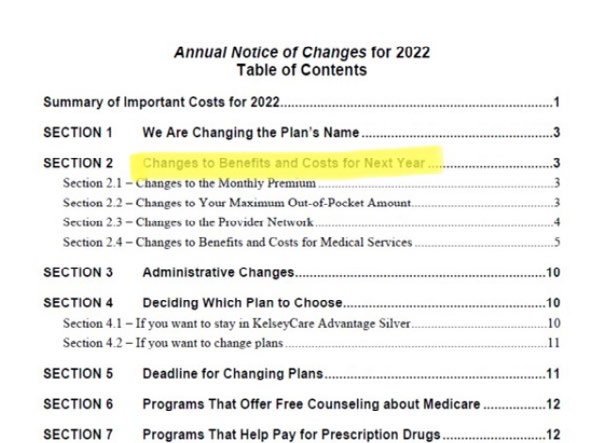 This section covers everything from changes to benefits and costs for next year to directions on locating your Provider Directory.
Next, you will see information about the KelseyCare Advantage provider network. Having access to quality providers, including doctors, hospitals, and specialists, is something KelseyCare Advantage takes very seriously. You can easily access your Provider Directory by viewing it online at www.KelseyCareAdvantage.com or by calling Member Services and asking for one to be mailed to you.
Lastly, this section gives you detailed information regarding any changes to your costs and coverage. You will find a chart for your review showing differences in last year vs the upcoming year copays and out-of-pocket costs.
Coverage costs and copays are important factors when determining a plan that best fits your lifestyle, that's why your ANOC lays out all pertinent information in an easy to review format. Be sure to read through the information thoroughly and call KelseyCare Advantage Member Services at 713-442-2273 for any questions that you may have. We look forward to seeing you in 2023!