Monoclonal Antibody Infusions for COVID-19
Monoclonal antibodies, also known as mAbs, are a group of medications made of laboratory-made proteins. These proteins work similarly to natural antibodies to recognize and attack harmful antigens such as viruses. In November 2020, the Food and Drug Administration (FDA) issued an Emergency Use Authorization to use monoclonal antibody treatments for patients with COVID-19. The medications work by binding to the spike protein on the outside of the SARS-CoV-2 virus particles, thereby reducing the virus' ability to enter human cells.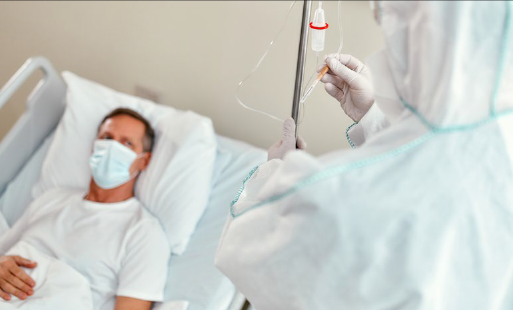 When administered within 10 days of COVID-19 symptom onset, monoclonal antibody treatments have been shown to reduce the risk of hospitalization for high risk patients by 70%. Patients at high risk of developing severe COVID-19 include patients with co-morbidities such as diabetes, heart problems, immunocompromise, or obesity, as well as patients over the age of 65. Although vaccination is still the most important tool in the fight against COVID-19, monoclonal antibodies are an important treatment option for patients who contract the virus.
Kelsey-Seybold Clinic was one of the first facilities in the Greater Houston area to offer monoclonal antibodies to patients with COVID-19. Since November 2020, the Infusion Specialty Unit at the Spring Medical and Diagnostic Center has administered approximately 1,000 doses of monoclonal antibody treatment. The treatment is administered intravenously in an isolation unit that was specially developed for patients with COVID-19. The Infusion Specialty Unit currently treats up to 18 patients per day and is open five to six days per week. Any Kelsey-Seybold Clinic medical provider may refer a qualifying patient to the COVID-19 mAb Infusion Team for treatment consideration. Once orders are placed, the Infusion Specialty Unit staff contacts the patient for scheduling.
Like any medical treatment, monoclonal antibody infusions carry a small risk of side effects, including allergic reaction, headaches, dizziness, or nausea. For this reason, the treatment is administered by specially trained registered nurses who monitor patients throughout the treatment and for one hour after its completion. Patients can rest in an infusion recliner during the treatment and observation period.
In all, the appointment takes about two hours. Many patients receiving the treatment have reported significant improvement in their COVID-19 symptoms within 1-2 days of receiving the infusion. Kelsey-Seybold Clinic is pleased to be able to offer this important treatment option for high-risk patients who have contracted COVID-19.