Award-Winning Medicare Advantage Plan
When KelseyCare Advantage launched in 2008, the goal was to deliver exceptional coverage and care by providing members with access to primary care doctors, specialists, and other services all in one location.
KCA is the only plan in Texas to have received Medicare's 5-Star rating and the U.S. News & World Report ranking for seven consecutive years. Our plans have received Medicare's highest overall rating of 5-out-of-5 Stars each year since 2017.
Medicare's rating system is based on plan attributes that:
Keep members healthy
Manage chronic conditions
Provide great customer services
Offer pharmacy benefits
Generate member satisfaction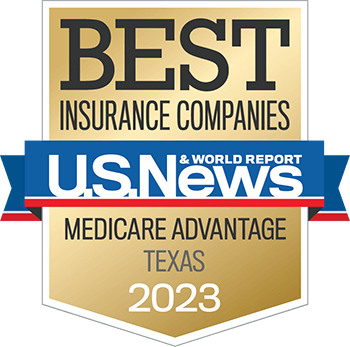 In addition, we've been ranked one of Texas' Best Medicare Advantage Plans by U.S. News & World Report for seven years in a row.
The KelseyCare Advantage
If you want to know why seniors select KelseyCare Advantage over other healthcare plan options, it simply comes down to more benefits and exceptional value.
Original Medicare primarily offers coverage for hospital stays and doctor visits, but we deliver so much more — at no additional cost. Our plans are designed to impact your lifestyle by bringing you the peace of mind that comes from knowing you're covered for current health needs — as well as unexpected future medical expenses.
Some of the added benefits of KelseyCare Advantage include:
See the doctor of your choice and get world-class coverage locally
Comprehensive dental
Flex Card
Vision and hearing coverage
Over-the-counter allowances
Virtual Visits
Worldwide emergency care
One Pass® fitness program
Members count on us — and we deliver excellence. Explore our plans to find the right benefits for you.