2023 OTC & Flex Allowance
Exciting news! Starting January 1, 2023, your over-the-counter (OTC) benefit allowances for KelseyCare Advantage will be allotted quarterly. This means that you have more dollars up front to spend on qualifying over-the-counter products.
Gold, Silver, Silver Freedom, Silver Community, & Gold Community Plans
Members of these plans will receive a white Visa card like the one shown here, that can be used towards approved OTC purchases. Any unused balances do not roll over. Check your 2023 Evidence of Coverage for details about your OTC benefit allowance.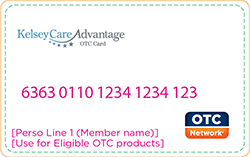 Platinum & Gold Freedom Plans
Platinum and Gold Freedom plan members can expect to receive a blue Visa card, like the one shown here.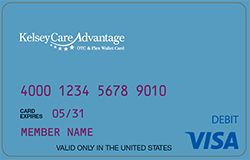 Plus, your card will include a $500 annual Flex allowance to use toward any service or product costs that you might have for dental, vision, or hearing provider visits. For example, you can use your Flex allowance to help pay for things such as hearing aids, prescription sunglasses, contact lenses, or for provider copays.
Any unused balances do not roll over and the flex allowance and the OTC allowance cannot be combined. Check your 2023 Evidence of Coverage for details about your quarterly OTC allowance and your annual Flex allowance.
Online Member Tool
Your OTC and/or Flex Card balances are available to view on kcaotc.com. You may also:
Activate your card
View eligible OTC products
Order products
Review previous transactions
Over-the-Counter Medication Benefit
KelseyCare Advantage provides members access to hundreds of approved over-the-counter (OTC) products through your OTC benefit. Approved KelseyCare Advantage OTC products cover a wide range of needs, such as allergy relief products, cough and cold medicine, antacids, pain relievers, vitamins and minerals, first aid products, and more.
Your OTC benefit offers you an easy way to get generic over-the-counter health and wellness products by shopping at retail stores. Locations include:
Kelsey Pharmacies
Family Dollar
CVS
Dollar General
Rite Aid
Walgreens
Walmart
You can even have your OTC items delivered directly to your home when you order online, by phone, or mail order form.
Approved OTC items can be found in the Over-the-Counter Catalog. Please make sure you are using an updated catalog when ordering.
Download the 2023 Over-the-Counter (OTC) Catalog
For OTC benefit-related or order-related questions, or to order a replacement card, contact: 1-800-688-2719 (TTY: 711).
For a complete list of list of participating retail locations, please visit kcaotc.com.